Motion Alert technology
Motion Alert technology simply provides access to the right spot where there is action in front of any activated cameras.
Based on settings; this technology will notify automatically by text and/or email online to the users.
The best case scenario for using Motion Alert technology could be clarified in a business for example where as a user would like to guard your premises remotely during off-business hours.
Basically, the camera's recording will be triggered via Motion Detection System.
Here how it works Within a camera system, the camera constantly is producing an image which the DVR (Digital Video Recorder) sees as an algorithm, when something changes in that algorithm the DVR determines this as a motion event and will notify the user instantly.
Not only the Camera spots are notified individually, moreover this technology designed to analyse specific zone of the Camera's image to detect and provide the requirements for users more in details.
This is a typical image from the Web Service presenting a live stream on one of cameras, and pedestrian pathway is the area we are monitoring so we need to call the pathway area to be Motion Detector rather than the road which we are not interested. So we apply changes on the Motion detection setting to recognise the area.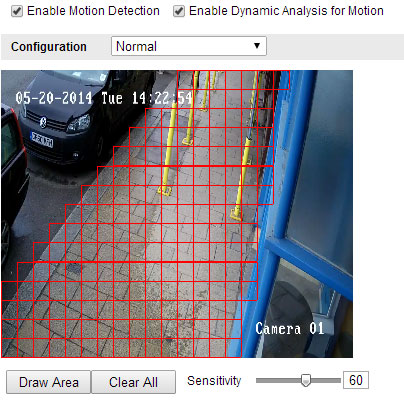 As we can see the area that has active motion detection on this image are Red tiled, this can simply be drawn and adjusted for a different sensitivities.
Now that motion detection is activated, the DVR will compare the image frames of Red Tiles areas all the time.
Any changes will be identified as a movement and recognized as a detection.
Accordingly, Motion Alerts instantly will send you video clips and/or images of the action in front of your cameras.
You will notify these alerts by text and/or email.
This way active motion alert system keeps you aware of any suspicious activity reported on your video surveillance system.
Motion Alert Technology features and advantages:
Alerts activated by all or particular cameras in view of individual prerequisites.
Changes on settings applied to identify movements at whatever time for the duration of the days or weeks. For instance, you may just need to get Alert after business hours on Monday through Friday, yet on the ends of the week be alarmed all time.
 CCTV Motion Alert Technology searches for single or different movement recognitions according to the settings. For instance, Alert detection would be adjusted just once every moment or more than once every moment.
You can send motion alerts to unlimited email or cell phone recipients, this way everyone gets notified at once.
Motion alerts would be sent to different receptions. This Communications is not limited via emails or texts.
The System is Compatible on all Android gadgets or operating systems like, Mac, iPhone and Android
Quality CCTY offers advanced technology in Motion Detection Services.
Feel free to contact us on
1800 95 11 03 or info@qualitycctvsydney.com.au to know what are your best options and one of our company owners will meet with you at your convenience.